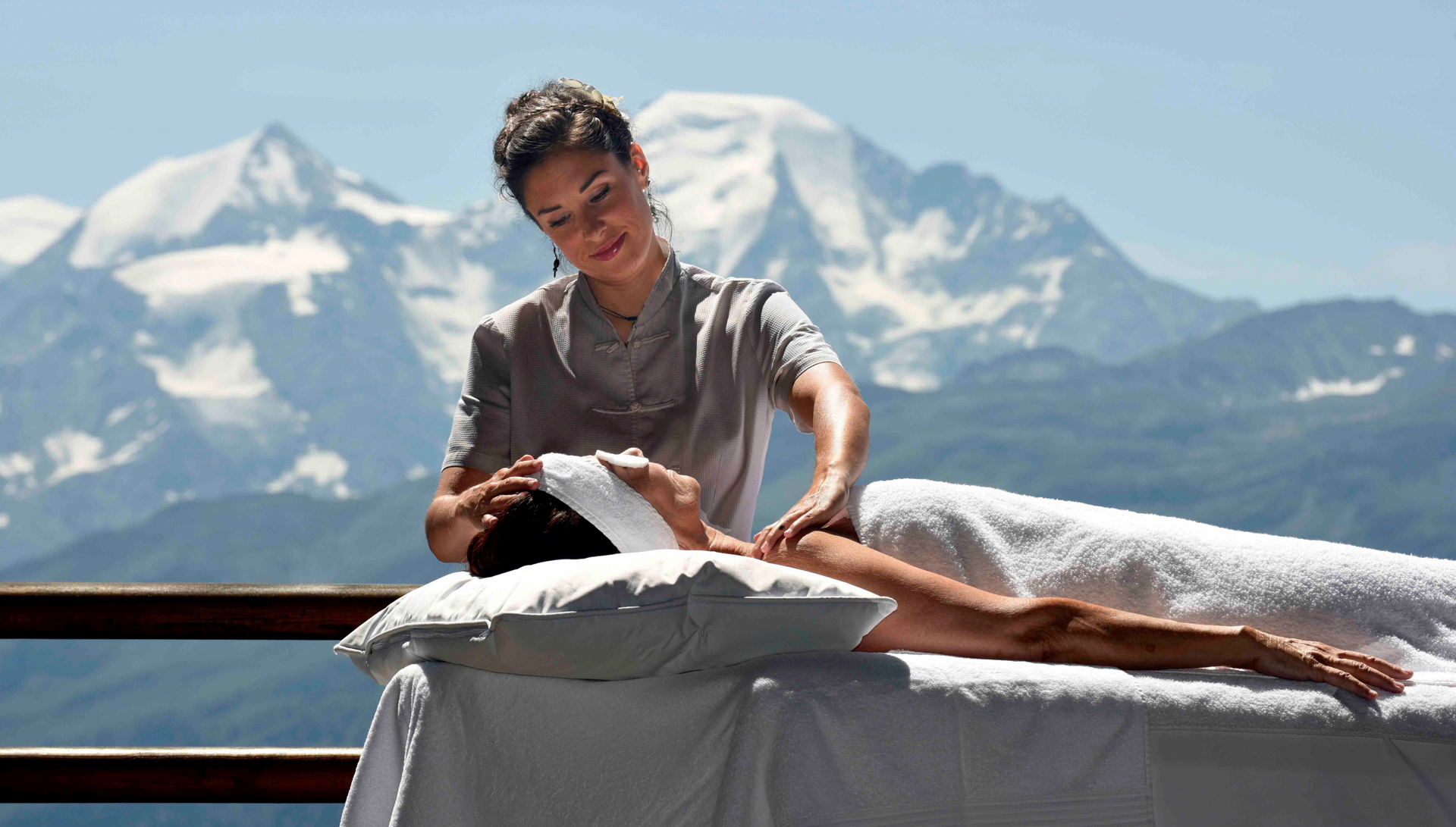 Beauty care list
Body treatment
Nourishing Rêve de Miel® Body Scrub® (30′) – 90 Sfr
The ultra-indulgent express treatment that leaves skin feeling as soft as honey.
Prodigieux® Radiance Booster Body Treatment® (50′) – 180 Sfr
Concentrated radiance and softness, thanks to the expert application of a unique, aromatic scrub made with flowers, foliage, fibres and fruits.
Rêve de Miel treatment(1h20) – 220 Sfr
Precious nutrition for dry and sensitive skins.
Massages
Charismatic head massage (25′) – 90 Sfr
The scalp, a crucial part of the body to be released
Foot relaxation (25′) – 90 Sfr
Under your feet, the key for your comfort
Relaxing (50mn) – 180 Sfr
The massage to discover the NUXE Spa's universe.
Détox (50mn) – 180 Sfr (1h20) – 220 Sfr
Deep movements to find in itself energy and vitality
Deep Tissue (50mn ) – 180 Sfr (1h20) – 220 Sfr
Deep ans intense moments to relieve tension of the day
Californian (1h20) – 220 Sfr
To ease tensions of body and mind
Beauty treatments
Eyelash or Eyebrow Dye (30min) – 45 Sfr
Color lashes to enlarge the look Lashes or Eyebrows
Epilation
Aisselle, Sourcils, Lèvres – 35 Sfr
Bikini brésilien – 50 Sfr
Bikini integral – 70 Sfr
Jambe complète – 90 Sfr
Demi-jambe – 65 Sfr
Facial treatments
Holistic anti-ageing face traeatments
Holistic Youthful Radiance Treatment (1h') – 200 CHF
Skin is left looking gorgeously beautiful and glowingly youthful with this treatment, which includes cleansing, an exclusive scrub and a mask.
Your mind will feel equally harmonised, thanks to the reassuring movements, the soothing vibrations of the crystal singing bowl, and breathing exercises inspired by the Sophrology method.
Holistic Youth-Enhancing Treatment (1h30) – 300 Sfr
Immerse yourself in a unique beauty experience, a fusion of expert facial skincare and a moment of all-round well-being. Relaxation inspired by Sophrology, gentle music, and soothing vibrations from a crystal singing bowl all invite you to let go and reconnect with your senses.
After a full-face treatment your beauty Spa expert will use her fingers to choreograph a' lifting' effect, sculpting volume and smoothing your features to leave your complexion glowing and serene
Personnalised face treatments
Ultimate Face Treatment (50′) – 180 Sfr
The secret to fresh, luminous skin: cleansing, an exclusive scrub (with flowers, fruits, foliage and fibres), mask and finally sculpting with Huile Prodigieuse®.
Exceptional Face Treatment (1h20) – 220 Sfr
This bespoke treatment (cleansing, exfoliation, mask, sculpting) pairs targeted manual techniques with specially selected accessories to help your skin radiate beauty.
Anti-âge by Resultime
Optimal moisturizing treatment 1h15 – 250 Sfr
Anti-aging moisturizing treatment with vectorised micro-collagen and 3 hyaluronic acid
Intensely quenched, the skin appears younger and visibly plumped up
Restored radiance treatment 1h15 – 250 Sfr
Anti-aging radiance treatment with vectorised micro-collagen and vitamin c A radiant and revived skin for instant radiance
Youth revealed treatment 1h30 – 300 Sfr
Global anti-aging treatment with vectorised micro-collagen and dna The skin is smoothed and appears re-densify, the contours seem redefined, face is radiant.